Description
SIGNED by the author Jim Scaysbrook, ISBN: 9780958175814
The long awaited Jim Scaysbrook's autobiography Along For the Ride: People, Places, Motorbike Races is available now.
Jim Scaysbrook has enjoyed a rich and varied life in which motorcycles have always been the common theme. Itching to follow his father's footsteps, he began racing at the age of 16 and has since competed in virtually every form of competition, including both motocross and road racing at international level. He has competed on the American professional motocross scene, at the - infamous Isle of Man TT, and throughout Asia.
Jim reckons he was born at exactly the right time, enabling him to experience the carefree ways of the 'fifties as Australia shook off the colonial image and emerged as a nation in its own right. There are other common threads; photography and working in advertising and marketing, along with journalism and authorship. Somehow, working with words has been a part of Jim's life since he began contributing to school newspapers. This skill has so far led to eleven books, including the highly respected Australia's Motorcycling Heritage, which has had two editions published. He is the founding editor of the magazine Old Bike Australasia and a contributor to similar journals worldwide.
Along for the Ride was many years in the making - the toughest assignment he has ever undertaken, but also the most rewarding. It's a collection of memories covering 65 years, full of larger than life characters, travel tales and an entertaining snapshot of Australian life.
Introduction by the Author:
It's a tough call, dredging through one's grey cells for memories long stored; things that seemed important at the time but now are just fuzzy recollections. I suppose this is a challenge facing anyone who sets out to chronicle their existence. This book, with all its fits and starts, took well over a decade to come together, and because there was no blueprint, no architect, it needed to be ruthlessly bashed into shape, whole sections scrapped or substantially revised, on many occasions. A bit like the frog in the well, just when you think you're about there, you slip back. But eventually you must call time, at least on the content, because a sad fact is that most autobiographies are never completed.
I am eternally grateful to the people who helped bring this book to fruition, especially my wife Sue, my sister-in-law Lyn and school chum Ann Sellee who read and re-read the words, correcting spelling mistakes and typos, highlighting glitches and so on. Also to those who supplied the photographs, without which this book would lack a major element. Luckily my father was a keen amateur photographer, and Sue has also become quite proficient behind the lens. In some cases I have acknowledged the source on the caption, but in the majority just who pushed the shutter button I can no longer recall. However special thanks must go to Michael 'Churkey' Andrews, Rob Lewis, the late Byron Gunther, my uncle David Brown, Charles Rice, Keith Ward, Dennis Quinlan, Col Sheehan, Jeff Nield, and Bill Forsyth. My apologies to anyone I have omitted.
Last but by no means least, thanks to Mat Clancy for his wonderful design and production work. Mat has been responsible for the much-praised quality and flair in my magazine Old Bike Australasia since it began in 2006.
Jim Scaysbrook Sydney 2013
Jim Scaysbrook signing the books in our shop: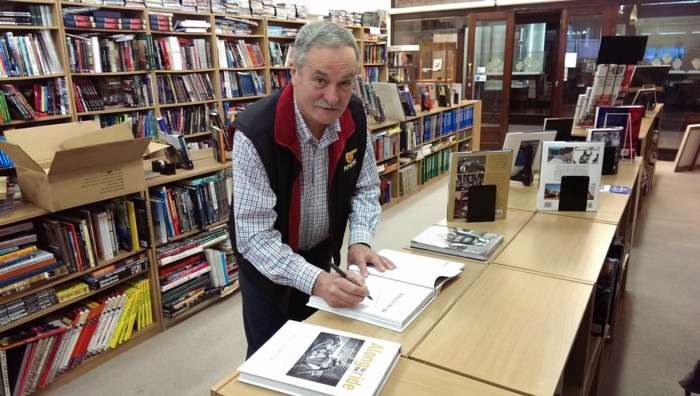 View All
Close
Additional Information
| | |
| --- | --- |
| ISBN: | 9780958175814 |
| Bound: | Hard Cover Book |
| Illustrations: | Colour & B/w |
| Pages: | 258 |
| Publication Date: | 2013 |
View All
Close